Monday, August 31st, 2015
---
11:46 am
- Link for the old Supernatural fans
Saturday, August 29th, 2015
---
7:30 pm
- ugh
i fucking love these boots but i do not have $500 in the bot budget ... i i'm hoping that the Black Friday sale will be fruitful for me and i can get these at a discount ::feverish crossing of fingers::

K and I are maybe planning a vacation on Philly and NY in November, that's another thing i'm crossing my fingers for.

Today was really chill, we roasted some of our home-grown tomatoes to make a wonderful marinara. We took a walk, missed most of the rain, puttered around in the garden, played with Elizabeth and drank some wine. it was good day.
Monday, August 24th, 2015
---
9:12 pm
- lol, as always things go all to shit when K goes out of town
So K is out of town for a few days and of course all of the little stupid disasters that happen around the house all wait until he is gone so i have to deal w/ them myself ... you know nothing huge but just shit that he usually deals with or shit that's easier to do w/ two people ... anyway. This afternoon i'm carrying stuff out to the garbage and i'm just closing the screen door instead of closing both doors since i don't want to inadvertently lock myself out and i'm too lazy to hunt up my keys so i just close the screen door behind me, and it clicked closed but i guess it popped out afterwards because when i got back to the house the screen door was open a crack and Elizabeth was nosing around outside.

sigh, she'd never been out since we got her and i was terrified. I was already dreading the phone-call to K about how i managed to lose her on the first day he was away ... but luckily she was pretty chill and i managed to scoop her up and bring her back inside, though she REALLY wanted to stay out and i doubt i'll be able to snag her so easily if she gets out again in the future. she spent the next hour meowing and galloping around the house and coming up to me to meow at me about her adventure. Sorry kitty, we need you to stay inside, i know it sucks. How do we always wind up with adventurous cats?

and in other news, here is another photo from yesterday's meet.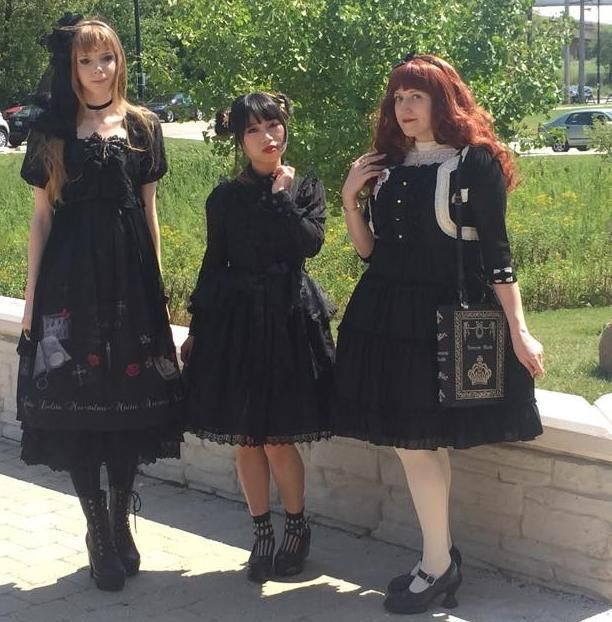 current mood:

relieved
Sunday, August 23rd, 2015
---
8:37 pm
- a very lolita weekend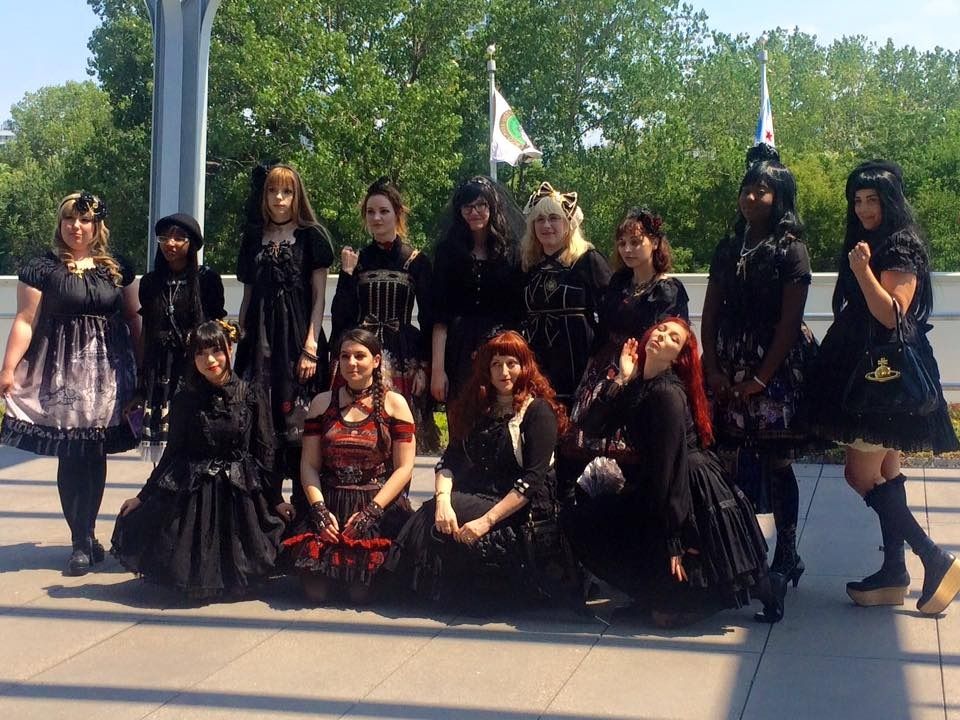 had a super-busy weekend, doing lots of lolita things (an Alice in Wonderland tea meet and today was the Megameet) and stuff with K (went to a party one of his work-friends threw yesterday and we had dinner out at 90 Miles Cuban restaurant today)... tomorrow i have a 1/2 day at work and i'm going w/ my mom to check out the Halloween stuff at Michael's grin emoticon SO EXCITED!

now i'm relaxing with a strawberry sheet-mask on my tired skin, oooof.
Sunday, August 16th, 2015
---
10:42 am
- at my mom's yesterday


Pumpkin spice and creamcheese cupcakes with whipped-cream and caramel topping. So, so nice. The caramel was sugar-free (but not calorie free, lol), today i scraped off the topping and had the cake part for breakfast ;)
Monday, August 10th, 2015
---
2:31 pm
- Pumpkin Mole
Mole fail day #2 - so yesterday i wanted to make this wonderful sounding Pumpkin Mole to have with my Cuban black beans and rice rolled into tortillas and baked w/ the mole like enchiladas ... too bad yesterday we were scared off by rain and didn't shop and today i went to shop and found the ancho peppers but forgot the damn pumpkin! WTF Jola, *sigh* someday i will do this.

So instead i used what i had on hand to make a spicy gazpacho and i guess we'll have beans and rice w/ ... not quite the New Orleans tradition for mondays but close enough!

ah Monday, you bitch-goddess.

(also i would like to own this egyptian style backpack)
Sunday, August 9th, 2015
---
9:08 am
- still rushing that season
i made a batch of vegan baked apple-cider doughnuts last night - they turned out great! The glaze wound up too thin but it did not effect the taste of the doughnuts. they were more like cake-doughnuts (maybe due to using flax seed instead of eggs?) and truly tasty, we went over to K's brother's and we wound up eating the entire batch >___<

I need to get pictures of the back yard, all of the flowers and tomato plants are going like gangbusters, it's a crazy color riot out there with marigolds, bachelor-buttons, zinnias, snap-dragons and roses. Now even the chives are blooming and i've been harvesting the flowers to add to salads.


Monday, August 3rd, 2015
---
6:37 pm
- Sad news, and a way to help
Originally posted by
ashbet at Sad news, and a way to help
hellsop
and
geekers

lost their home and car to a fast-moving fire last night. Their renter's insurance had lapsed.

They made it out safely, with just the clothes on their backs and what they could grab running out the door, but the fate of their two cats is unknown.

There is a GoFundMe set up to help with their immediate expenses. Please donate if you can, and signal-boost if you can't -- it's looking like everything they owned is a total loss.

http://www.gofundme.com/6p9hx5d86ps

Thanks for reading, and please feel free to quote/share this post to spread the word.



I sent as much $$ as i could but i would love to send more ... so i'm posting my current BPAL perfumes that i'd be happy to sell and send the proceeds (over shipping cost) to them directly - you can paypal to me and i will forward every penny other than what it takes for me to ship to you - OR you can send money to their Go-fund-me page, write in the comments it's from my sale and just paypal the shipping to me - whichever works for you). please pass on the list if you know someone that loves perfume and would like to buy some for a good cause

(

Collapse

)
Thursday, July 30th, 2015
---
6:55 am
- good news everybody!
Doc saw the results and she said it's very very likely just a cyst and not to lose any sleep over it :) still need the ultrasound today but yay! Good news is good.

in other news, being old and getting these sorts of scares sucks. On the bright side K and I had a REALLY great dinner and evening last night, i can tell he feels 100% better now that he isn't so worried.
Tuesday, July 28th, 2015
---
5:36 pm
- retail therapy ... of the damned
i got this batshit thing and i think it's like a satanist snuggie or something.

had the diagnostic mammogram, got my ultrasound scheduled for this Thursday and a talk w/ the surgeon next week on the 6th. Thanks for the support guys, it's appreciated ;)

current mood:
nervous
Thursday, July 23rd, 2015
---
7:11 pm
- pfffft
so the thing i was hoping was a blocked sweat duct is a "large mass" and i have a diagnostic mammogram scheduled for monday, so wish me luck. My doc thinks I'll probably have to go to surgery and get it taken out to make sure it's not cancer etc., she already referred me to a surgeon and there will be tests after the initial mammogram i guess.

K is a wreck of course, i'm like dude it's fine but, you know. SIGH.
Tuesday, July 21st, 2015
---
9:11 pm
- stuff and crap
i just had some rando woman bitch me out on my cellphone because she had a wrong number. Because *NO* it was not a wrong number. >____< okaaaaay, i guess it's the right number but i'm the wrong person, just hold on a second there while i change the laws of God and Man and Transmogrify into the person you are trying to call, pardon me while i sacrifice a fucking goat to Satan because that's going to take some doing. Sharon.

So also i think i have a blocked sweat-duct or something because there is an odd lump in my armpit. which kind of hurts slightly (which is good, because it's a "soft" lump and totally NOT cancer by the way), and is annoying and i have a doctor's appointment for thursday. Because you know, sadly over 40 and i take lumps that don't go away after a few days seriously. Even though i know it's fine, blocked sweat duct, nothing to see here ::jazz-hands::

Also i got my hair done and it's not a nice pumpkin-red ... kind of carrotty-orange/red with a sort of golden tone. Very nice, need to get a nice photo of it.

you know. good times, bad times, you know i've had my share.

p.s. Megadeth is doing a tour w/ Marty Friedman and Nick Menza. I'm probably gonna skip it since it's a nostalgia bid, though i have to say i would like to see Marty (who is an AWESOME guitarist) revisit Holy Wars would be a treat. But i see this going about as well as the reunion w/ Chris Poland >____< I'm just saying.

current mood:

indescribable
Sunday, July 19th, 2015
---
11:28 am
- day at the beach


It was a hot day at the beach, but not quite as hot as expected, it was breezy and lovely. We had vodka lemonades and margaritas at the Waterfront cafe and icecream afterward. the "fainting" photo is kind of a joke since a lot of people didn't come out to this meet because they were scared of the hot weather ;) the photo below was taken on a seaside stage, they had random chairs and hanging frames so we took advantage. The filter makes the scene looks even more soft and tropical.

Today i did some desperately needed weeding in the garden and K is putting in the airconditioner. Summer is officially here.


Sunday, July 12th, 2015
---
12:00 pm
- that heavy red multi-ruffles skirt/dress has a million uses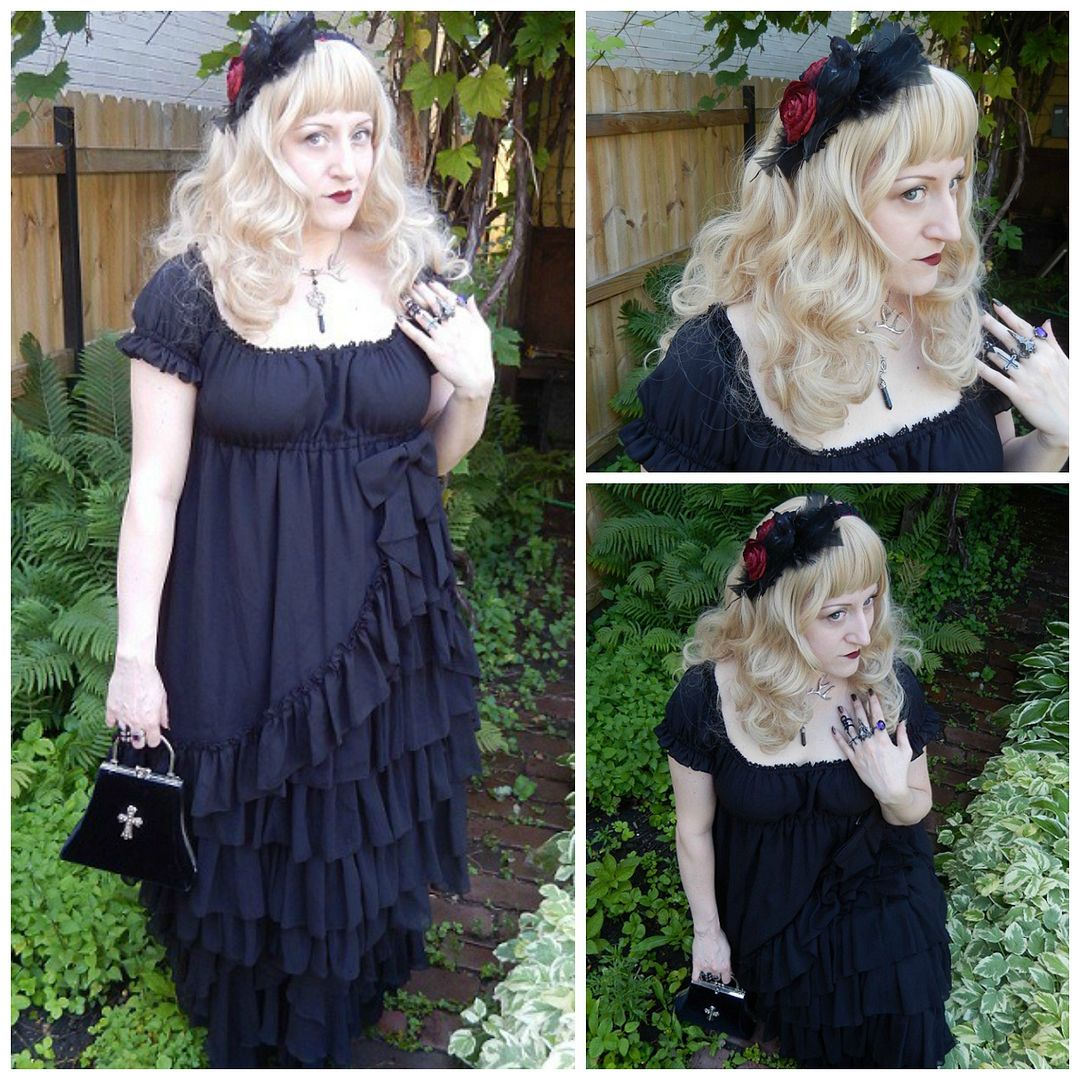 hope this photo isn't too large ... the one on the left is lightened to show detail.

last week was really busy with Anime Midwest, and i still have to find a few decent photos from there to show around. It was hectic though w/ a lot of overheating and public transportation fuckery and i'm still not really recovered. I'm still a bit out of sorts about a bunch of things so i dressed up today to make myself feel a bit better.

darn it i'm liking this color of blond on me.
Friday, July 3rd, 2015
---
6:54 pm
- ready for tomorrow ... Anime Midwest fashion show
not gonna be in it, just watching it this year. Ironed all the things, sewed some pink flowers onto things, sewed some new bows onto a Bear wearing a bear hat (don't ask, it's a lolita thing), cut my wig bangs, painted my nails white w/ pink stripes ... i think i'm ready??

K is outside grilling the tomatoes, the cat is stuffed full of catnip and shrimp and i'm full of Riesling ... life is good.

current mood:
peaceful
Sunday, June 28th, 2015
---
7:35 pm
- missed me?
pictures from the weekend:




and one more - i usually don't do more than one photo w/out a cut, but in this case i'm going to make an exception since i haven't been posting much ... you can get a double dose!




Two very different Lolita looks :D

current mood:

good
Thursday, June 18th, 2015
---
10:25 am
- angry/sad
(posted earlier on FB)
"Reading about the shooting at Emanuel African Methodist Episcopal Church in SC this morning. So sad and so frustrated ... this is not only a hate crime but a terrorist act. (FYI The Federal Bureau of Investigation (FBI) defines terrorism as "the unlawful use of force or violence against persons or property to intimidate or coerce a government, the civilian population, or any segment thereof, in furtherance of political or social objectives.") you know we white Americans need to be really diligent in calling out racism in America, it's our fucking JOB to self-police and not let these bastards do stuff like this. This guy did not exist in a vacuum, he had friends and relatives and he lived in a community that let his racism go unchecked ... and don't even give me that "mental illness" nonsense he targetted a black church for a reason. You know what else you can do? When someone speaks out about racism you can NOT just "hurr durr SJW go back to Tumblr" etc, because ::points to this shit:: racism is alive and well and we need to not make excuses for it and wimp out and deny it when it's happening. Or we are complicit."

and i mean, we have to really talk to and engage people. I hear a lot about "priviledge" but you know with privilege (the kind you didn't ask for) comes responsibility, the responsibility of talking to these people you'd rather not engage because otherwise they will continue to be fertile ground for this culture of racism. I know it's tiring and unpleasant and it feels like you are taking crazy-pills sometimes but we have to continue talking about racism and not tap out ... yes it's hard but when we stop THIS continues to happen.

just like men need to call out other men for sexism, women are TIRED of pointing out the obvious. Black people, Asian people, Latino (POC is the general term) they are TIRED of pointing out the obvious racism ... we can't afford to just stand by and let this continue. Yes you will be "that guy" and they'll call you a crazy liberal or a dreaded Social Justice Warrior ... is it that high a price to pay for potentially making things a little bit better?

current mood:
frustrated
7:41 am
- shallow wanty
Wednesday, June 17th, 2015
---
9:11 am
- well this weekend wrap-up is late
So the reason this is super late (a weekend wrap-up on wednesday?) is because i got super sick w/ the flu on sunday and this is the first day of me being sort of not horrifyingly sick (still sick tho).

Elizabeth went for her vet visit and yearly shots Saturday morning. she was a terrified mess once we got to the vet and she was scouting out that vet's office like fucking Mission Impossible looking for a way out, i swear she was eyeing the vents! So massive anxiety at the vet but she was a good girl and didn't bite anyone (though the vet assistant had that efficient death-grip on the scruff of her neck like they know how to do). She completely relaxed when she was back in the car though and was super happy and playful and clingy when she got home. Unlike Cal who always hated us after a vet visit, she seemed so happy to be back home we actually wondered if she initially thought we were taking her back to the shelter or something  I hope not, but the literal second she realized she was going home she went back down to zero stress. Poor girl, but hopefully now she's good for the year. Elizabeth is pretty great, into everything like a ferret … still hates laps though ;)

Saturday evening we went out to a Gallery opening in Pilsen. K had made a few partitions for them (he knows the owners/artists through work), so we got dolled up (K wore a toned-down rockabilly shirt and jeans , I wore my long bird-of-paradise retro dress) and enjoyed some local art and some fine home-made Mexican food <3 I got to meet some of Kurt's co-workers and got to geek out about video-games w/ one of them. I had K lend him my copy of Dragon Age, I think he'll positively love it.

On Sunday the Flu hammer came down and I was HORRIFIED by how bad it was. 2 boxes of Kleenex in one day and none of my medications even made a dent. Monday I was so sick even though It was my work-from-home day I still had to call in sick. Monday is also when the body-aches hit. Tuesday the aches stopped but the coughing and chest congestion started and today I'm at work hacking up phlegm. Ugh.
Friday, June 12th, 2015
---
8:43 pm
- A story of how Boys drive us to Drink
So last night I was invited by Carriemonster to a retro Tupperware party. She lives maybe 8 or so blocks away and it was still light out so I decided to walk over. I wore a long retro-style dress in a bird of paradise design on black with teal, pink and white accents, hair-flowers in white pink and black to match and teal vogs. My hair had a cute retro curl and of course I did a full face of makeup, so I was feeling pretty good. So here I am a maybe 6 blocks away from Carrie's, carrying a cheese-plate, when this BOY crosses the street over to me to complement my hair. I say thanks (because it *is* cute as hell and I'm gracious) and he proceeds to chat me up about where I'm going, how I do my hair, complements my dress … and then complements my body (lol, wut?) so now even normally dense-as-a-brick me gets that this is a pick-up attempt.

So I do my usual, look I'm happily married, 41 years old and on my way to an event and I'm REALLY not interested thanks routine … but he doesn't care and keeps following me trying to carry on a conversation. This kid is maybe 18-20 years old TOPS so after 4 blocks, I just went into Four-moons tavern for a drink. I knew there was no way he was old enough to drink and I was right, lol. Had a refreshing shot of whiskey, and went on my merry way maybe 10 minutes later.

No here's the thing, I didn't feel threatened in any way, I could have easily taken him down even in heels and holding a damn cheese plate … but it was ANNOYING. I feel like my choices were a) suffer this boy's company for another few blocks or b) call K at home to come get me and drive me the rest of the way and/or scare the crap out of this boy and neither of those were very appealing choices. Meh. So repeat, this is how boys drive us to drink!

Anyway the party was great fun and I got some "crystalware" which you can microwave (it has a little vent you can open) for K and my work lunches. K had arranged to pick me up after the party (and I'm glad he did because it was raining by that point and I had not taken an umbrella) and we had a good chuckle about the incident before going to bed, my darling is in no danger of being replaced by some teen :)

current mood:
aggravated